Today, I'm sharing our Pre-K End of Year Celebration, along with printable end of year certificates. Several people have asked me to share ideas for Preschool Graduation, but to be really honest, what I do is really simple. I also know this will be late for some teachers and not for others — if so, I hope you will pin it for next year.
End of Year Certificates
Print these editable certificates for children to celebrate their completion of your Pre-K program. I made these with the words "Pre-K" and "Preschool" and since I have a lot of Kindergarten teachers who follow this site, I made one for "Kindergarten" also.
The editable files are PowerPoint files, but I also have PDF files if you don't have PowerPoint available. In the PowerPoint files, I used the Century Gothic font for the editable parts because its a font everyone already has. If you would like your font to match the rest of the text on the certificate, I used the Kimberly Geswein font called KG Be Still and Know (free at the link, or here).
Pre-K Certificates
Preschool Certificates
Kindergarten Certificates
Transitional Kindergarten Certificate
End of Year Celebration
Some teachers call it Graduation, but I call it our "End of Year Celebration". Our program is very relaxed and casual, and we don't have caps and gowns or a formal ceremony. Parents are encouraged to come.
The kids show the parents a few songs that we've learned. I call them by name and give them a Pre-K Certificate along with their portfolio notebook, which the children take and present to their parents. We then have cookies, juice, and bottled water for the kids and their parents. In years past, I either showed a slideshow or a short movie we've made for the parents (but this year, I ran out of time).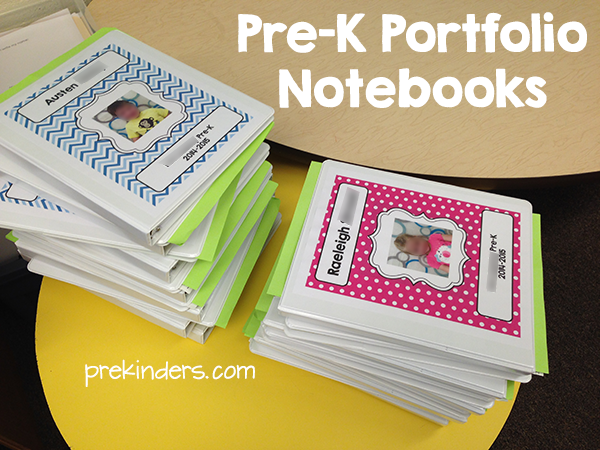 The songs we do are ones that the kids are very familiar with and we've done all year. We don't even spend time practicing because the kids already know them. I let the children choose the songs: each child recommends one and then I narrow down the list. The best songs are ones with lots of hand and body motions because the kids tend to forget to sing when all those parents are watching them.
Download & Print the Portfolio Notebook Covers
These are editable PowerPoint files. Download & open the files (you must have PowerPoint on your computer). Then click in each text box to change the text: enter child's name, school name, and school year. You can change the font as well. The font is automatically Century Gothic because most people already have that on their computer. The font I used on my notebook covers is KG Second Chances Solid, which you can get for free by clicking the link. You might need to change the text size if you change to a different font.
To place the child's photo on the cover, just drag and drop the child's photo there (or you can click Insert > Photo > Picture from File). Drag and drop will be easier. You might need to resize the photo, so click the picture and resize it using the arrow at the corner of the photo. You can also move the photo and the text around if needed.
Download: Blue Portfolio Cover
Download: Pink Portfolio Cover
Our Luau End of Year Party
After the songs and certificates, all of the children and parents are invited to have refreshments. Our party theme every year is a luau because its very summery, and by keeping the same theme each year, I can use the same decorations. The Dollar Tree always has a lot of luau themed decorations in May. I also found luau party printables on Etsy that I can use for cupcake toppers (which we had last year), water bottle labels, and a banner. This year, we had a variety of cookies, juice, and bottled water.
End of Year Gifts
Two End of Year gifts I have used with my class are:
I often choose one of these treat bags and add something to it in a gift bag, such as bubbles or a small pack of sidewalk chalk or a dollar set of watercolor paints.
What do you do to celebrate the end of the year with your class? Share in the comments below!
Find more End of Year Resources here!
…
Awesome graphics by: