Here are some Spring block play ideas you can use to transform your block center and spark kids' creativity.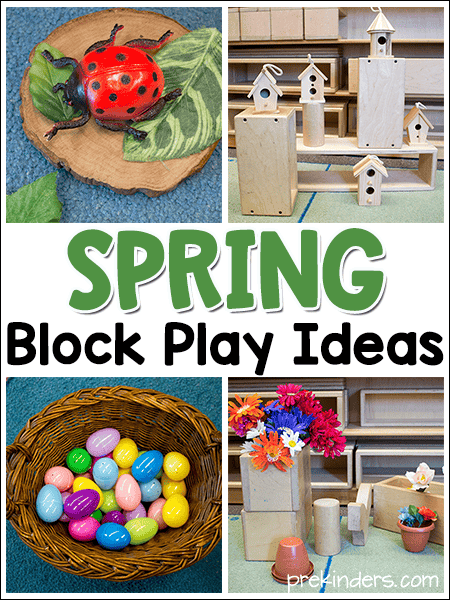 Adding simple, seasonal items to the block center can make it "new" and inviting, and may bring kids to the center who haven't been there in a while. Adding new items helps promote new thinking and new ideas as they play.
To see more seasonal Block Play ideas, check out Fall Block Play and Winter Block Play.
Easter Eggs
Add a basket of colorful Easter eggs to the block center. These are inexpensive, especially if you purchase them after the holiday and save them for the next year. Children can add them to their block buildings, or build things and pretend to hide the eggs around them for a pretend egg hunt.
White Eggs
Some schools are not allowed to have Easter items. If that's the case where you teach, you can use white eggs. These are exactly like the colored plastic eggs, but they're white. These would also work great if you are currently doing a Farm Theme. Wooden eggs would be a great option also since they wouldn't break.
Wooden Birdhouses
These little wooden birdhouses came from a dollar store. I've also seen them at craft stores and they're not too expensive. Mine were $1.00 each. I love that these are natural wood and they match our natural wood blocks. Kids love to add these to their block creations in the Spring time.
Artificial Flowers & Flower Pots
Artificial flowers can be very inexpensive — get these from a dollar store. You can either keep the stems on (just make sure they have no sharp wire ends), or cut the flower top off of the stem.
I added these little flower pots, which are also from a dollar store.
Artificial Green Leaves
In the Fall, I had colored leaves in the Block Center. For Spring, I added green leaves. To get these leaves, I bought a green vine from the dollar store and cut the leaves off the vine. Kids love to play with these with the bugs (see photo below). They also love to use them to make a jungle for our jungle animals.
Bugs
For Spring time, it's fun to add some bugs to the Block Center! There are many sources for bug toys like these. My set is made by Lakeshore, but I actually bought the set on eBay. I got them for a lot less money, and they were in perfect condition.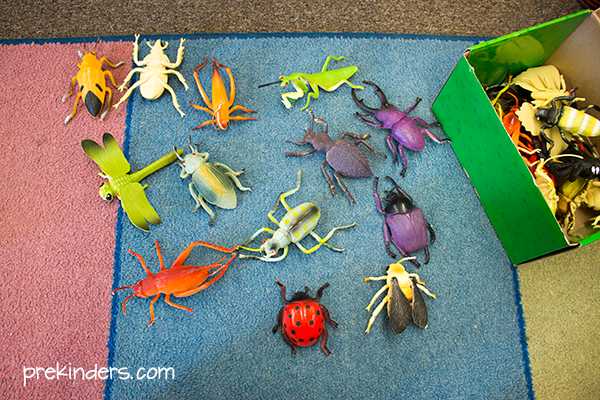 Kids especially like to put the bugs with the green leaves.
Do you have any Spring Block Play ideas to share? Please tell us what you add to your blocks center in the comments below!