These winter block play ideas will transform your block center into a wintery, Arctic world, and spark the kids' imaginations.
Sometimes you just need to change up your Block Center for something new and different. Here are some ideas for simple items to add seasonal interest to the Blocks Center.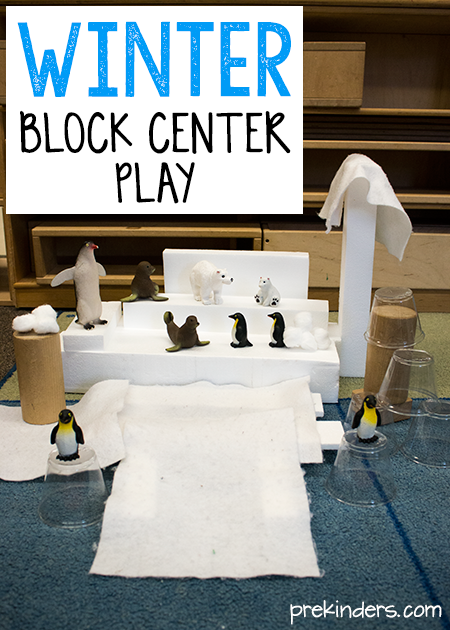 Polar Animals (Arctic Animals)
Use a collection of plastic polar animals toys for kids to play with in the block center. They can use these with the blocks along with the other block play manipulatives listed below. These can be purchased from toy stores or educational catalogs.
White Pom-Pons
Add white pom-pons for snowballs in a basket or bin for children to decorate their polar worlds. In the photo, I used cotton balls because it's what I could find at the time, but craft pom-pons will be more durable. These can be purchased from craft and hobby stores.
Clear Cups
Clear cups are inexpensive and fun to add to the block center. I told my class these are like ice blocks. Kids can use these to decorate their winter block creations and they can sit the animals on top or inside the cups.
White Felt
Sheets of white felt can be purchased inexpensively at craft stores. The white felt is perfect for a blanket of snow on the ground in their arctic world creations.
Styrofoam Blocks
Note: A reader noted that styrofoam blocks are a choking hazard. Supervision of your child(ren) is expected when doing any activities on this site. As an alternative, you could wrap wooden blocks in white paper.
These styrofoam blocks are the big hit in our block center! I saved these from a package I got in the mail at Christmas time. Kids can pretend they are blocks of ice. Of course, they do break a little, but they'll last long enough for the kids to enjoy them (and they were free)!
Do you have any Winter Block Play ideas to share? Please tell us what you use in the comments below!