Let your little learners try these Winter fine motor activities! These activities emphasize building the fine motor muscles to help with pencil grasp.
DOWNLOAD: WINTER PRINTABLE PACK
Note: This is a free printable, just click to download.

This post contains Amazon affiliate links.
Winter Popsicle Stick Pictures
Children will make the snowflake, snowman, mitten, and polar bear by placing the popsicle sticks on the mat. You will need white, black, and blue popsicle sticks. Colored popsicle sticks can be purchased, or make them by coloring popsicle sticks with a non-washable marker or liquid watercolor.
---
Winter Toothpick Punch or Pinning Activity
Your little learners will practice fine motor skills and hand-eye coordination while having fun, using this toothpick punch printable.
Copy the wreath punch pages onto constructions. Gather some toothpicks and carpet squares.Carpet stores often give away these carpet sample squares for free. Or, you can just place the construction paper directly onto a carpet covered floor.
After placing the construction paper on the carpet, children will use the toothpick to punch holes along the black lines. Some teachers prefer to use the giant thumbtack pins. I prefer the toothpicks. If they break, children throw them away and get another. When they are done, children can hold their paper up to the light and see the light shining through the holes.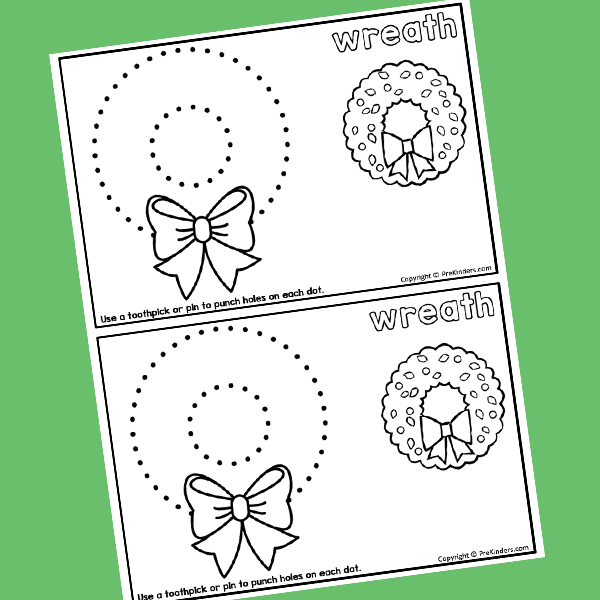 ---
Winter Play Dough Mat
Children will create the penguin and snowman by rolling play dough and placing it on the mat. Print this mat and either laminate or place in a clear page protector.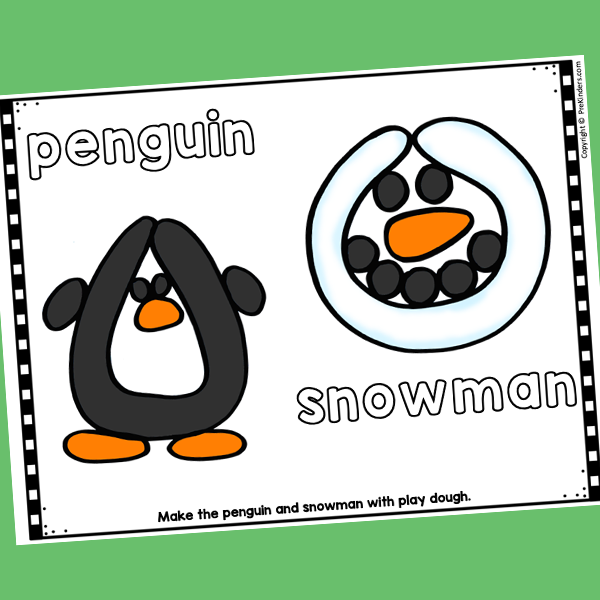 ---
Stringing Winter Beads
String pony beads onto pipe cleaners is great fine motor practice! This is also very inexpensive. Get some pony beads in winter colors, some pipe cleaners in winter colors, and some clear disposable punch cups to store the beads. You can have children string them any way they like for fine motor practice, or you can also have them sort them by color onto pipe cleaners, or make patterns.
---
Clipping Mittens and Scarves on a Clothesline
Make these colorful mini scarves and mittens by cutting them out of felt pieces. Children can clip them to a clothesline using clothespins. Get the different colors of felt in sheets at a craft store (these are inexpensive). You can cut 8 mittens and 5 scarves using just 4 sheets of felt. I used pink, dark blue, light blue, and purple.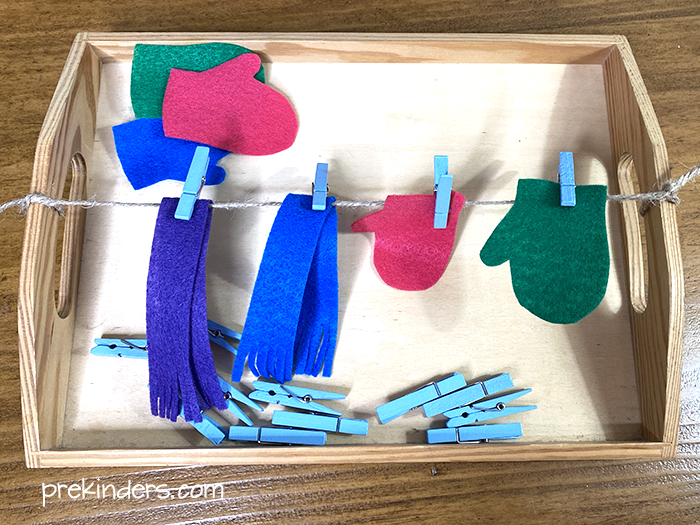 To make the scarves, just cut one inch strips of felt, approximately 6-8 inches (you don't have to be exact). Then, fringe the ends with your scissors. To make the mittens, either cut these freehand, or print out a simple mitten clipart to use as a pattern.
Tie a piece of jute string to the handles of a wooden tray. You can store the mittens, scarves, and mini clothespins on the tray. Children will hang the winter clothes on the line with the mini clothespins.
Another option would be to tie the clothesline across a corner of the room, and have children hang the mittens and scarves there.
---
Math Play Dough Mats
These Winter math counting play dough mats can be found here:
---
Find more Fine Motor Activities here: