There are lots of ways to make mailbags and mailboxes to hold class Valentine cards. Here are some simple and inexpensive ideas for your class to make.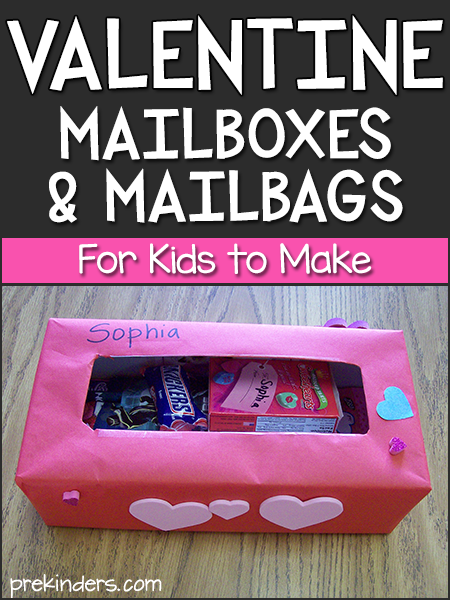 Tissue Box Valentine Mailbox
What can you use for a Valentine mailbox that is a free recyclable and you can get in abundance (enough for your whole class)? Tissue boxes or latex glove boxes! You can actually use both since they are the same size and shape. I ask parents and friends to help save them. Last year, I had a parent who worked in a hospital and she saved the latex glove boxes for me from non-contaminated areas. She was able to send me two huge bags of them and it was enough for that year and this year, and they worked perfectly!
You can wrap them in red, pink or white bulletin board paper, wrapping paper, butcher paper, or brown shipping paper. Cut out the slot in the top, fold it back, and tape the folded paper to the inside of the box. The boxes already have a slot, so you are only cutting a slot in the paper. Write the children's names on the top of each box with a bold black marker.
Have the children decorate them with foamier, paper cutouts, heart doilies, stickers, sequins, markers, and crayons.
Valentine Mailbags
Mailbags are the simplest Valentine mail holder. Just get some paper bags and let children decorate however they wish with a variety of Valentine collage materials. Use heart doilies, stickers, stamps, markers to decorate the bags. You can buy paper lunch bags in the usual brown paper sack color, or white, red, or pink. You can also buy packs of these paper gift bags with handles in a variety of colors.
File Folder Valentine Mailbags
These mailbags are made with a file folder. You can use a manila folder or get the colored ones in red. Using the hole punch, make holes across the bottom and along both sides of the file folder (using a 3 hole-punch is easier and faster).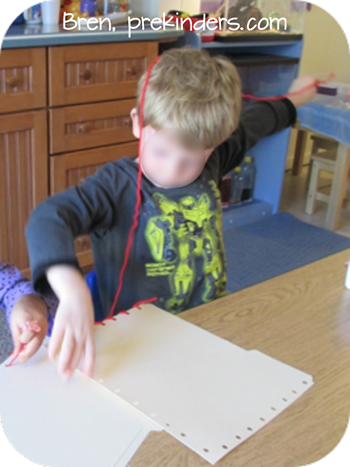 Have the children lace up the 3 sides. You will need yarn of about 2 ½ ft per child. It is helpful if you wrap the end of the yarn with masking tape or use a plastic needle. Use a piece of yarn to make a handle.
Let the children decorate their mailbag with markers, dot paint, construction paper hearts, stickers, etc. Very simple and inexpensive!