Here are six ways to create pretend snow in the sensory table for your preschool, Pre-K, and Kindergarten students to explore!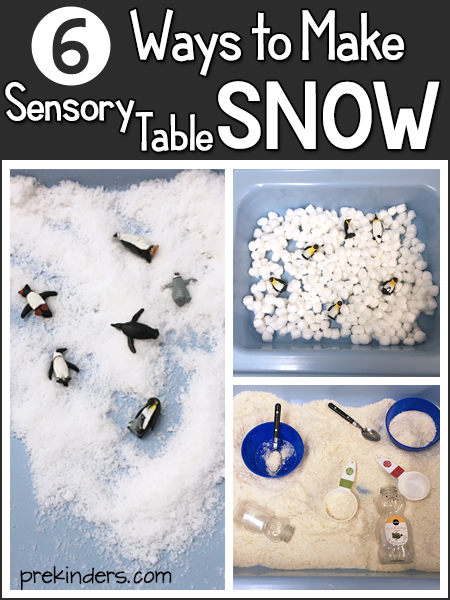 Winter is here! Whether you live in a place that has a lot of snow or no snow at all, children love to play with and explore substances that look like snow. These sensory table fillers work great with polar animal figurines and go along with your Winter Themes.
Sparkly White Sand "Snow" Sensory Table
This white sand looks like sparkling snow, but has a very different texture and gives children a different texture experience to explore. It's also a non-food alternative. The white sand I used is from Jurassic Sand. I've used Jurassic Sand for years because it's dustless and safe for kids with allergies and asthma. I added polar animals from a Safari Limited Toob.
The pictures don't give it justice, but this sand is beautiful! It looks like thousands of tiny jewels and it feels soft rather than scratchy. There is a warning label that says it can be slippery, so I will put a small carpet under the sensory table any time we use this sand.
Disclosure: Jurassic Sand provided me with this white sand upon my request. Years ago, I posted about their sand on my site, not as an ad, but just to share it because I like it. They noticed and gave a discount code that PreKinders readers can use. If you order from them, enter "PREKINDERS 10%" (with a space) on their website.
Instant Snow Sensory Table
Instant Snow is a white powder that expands when water is added, and becomes fluffy and soft. It's a super absorbent polymer. Instant Snow makes a great science lesson as well as a fun sensory table filler. You can buy it many places: Steve Spangler, Amazon (affiliate link), Hobby Lobby, Cracker Barrell, and the Target Dollar Spot around Christmas time. I added penguins from a Safari Limited Toob.
Cotton Ball Snow Sensory Table
This is the very simplest way to create pretend snow, and the children love it! My small sensory table took about 2 bags of cotton balls. The best thing about it is no mess! As they play, the cotton balls will get stretched out a little bit, but it's still just as fun. You can also use white pom moms from a craft store. These cost more, but should last longer.
Shaving Cream and Corn Starch Snow
Pour a box of corn starch in the sensory table, add some shaving cream and mix it with your hands. This one is messy, but a great sensory experience for children. Once you get the consistency right, it's moldable, soft, and fluffy. Instruct children to keep their hands away from their face, and if possible have a sink or bucket of water nearby where they can wash off their hands. Plastic aprons (paint smocks) will keep their clothes from getting too messy.
Microwaved Ivory Soap "Clean Mud" Snow
Place a bar of Ivory Soap (this is the only brand that works) on a plate and microwave it for about 80-90 seconds. This causes the soap to expand. You can watch Steve Spangler do this here. (You Tube link) Then, in a large tub, crumble the expanded soap, add a cup of warm water and mix it with your hands. Next, remove the paper from one roll of toilet paper, add it to the tub, and mix the soap with the toilet paper. Continue kneading the mixture until you get a moldable dough. Add water if needed. Children can make snowmen with this dough.
Potato Flake Snow Sensory Table
This one is super simple and very inexpensive and the children enjoy the texture. Just open up a box of potato flakes and pour into your sensory table for children to explore. I added bowls, spoon, measuring scoops, and some cleaned honey bear containers so the children could measure, fill, and pour.
I know there is a lot of controversy surrounding food in the sensory table, and some schools don't allow it at all. In my opinion, dry potato flakes are not recognizable as food, it's safe for children, and the cost is easy on a preschool teacher's pockets. Do what is best for your students and what is allowed by your school.
You'll enjoy these Winter resources…