These Pond Life Picture Word Cards will work well with a Pond Life Theme. Included words are turtle, fish, duck, frog, tadpole, dragonfly, swan, alligator, salamander, snail, water bug, heron, lily pads, cattails. There are a total of 14 words.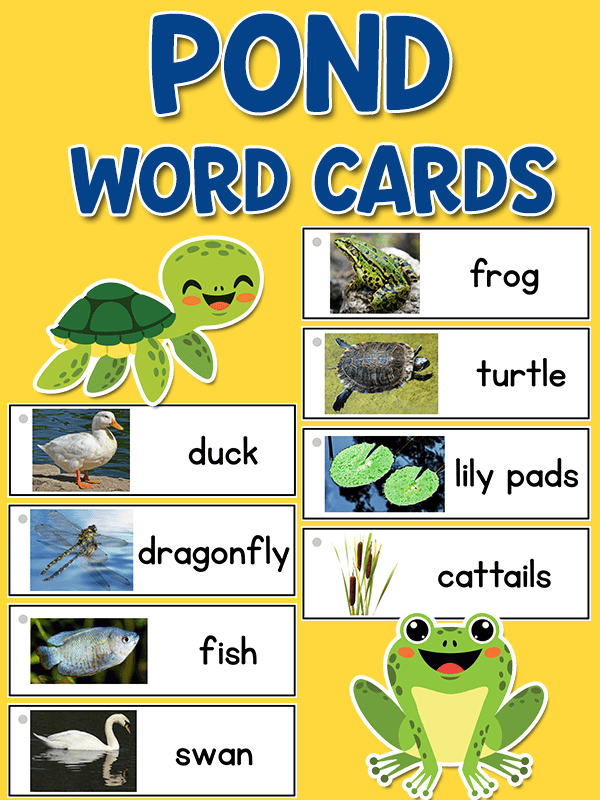 Find more word card sets in the Picture Word Cards collection.
How to use the word cards:
During each theme we do in my classroom, I put a pocket chart of word cards related to our theme on the wall in our Writing Center area. The kids can take the word cards out of the pocket chart and take them to the table to copy them, if they choose. We also use them for large group activities, such as clapping the syllables in the words.
In case you want to make a little picture dictionary with the word cards, there are punch holes in the top left corner. Use a metal binder ring to hook the set of words together. The picture dictionaries save space in the classroom.
You might also want to put them in the pocket chart during the theme, then later hook them on a picture dictionary ring to add to a collection of thematic words through the year.
The blank set of cards has the picture without the word. These can be used for other languages or other writing styles, such as D'nealian.
Download the Pond Word Cards:
Note: This is a free printable, just click to download.
Letter Tile Cards
I also have these cards available as Pond Life Letter Tile Cards which are available on Teachers Pay Teachers. Click the image below to take a look…