During the month of November, we had a Pizza Shop set up in our Dramatic Play area. Last month, I posted our Grocery Store. Find all of my Dramatic Play centers here. We will also make real food mini pizzas as a cooking activity after Thanksgiving break. You can find that recipe on the Cooking Page.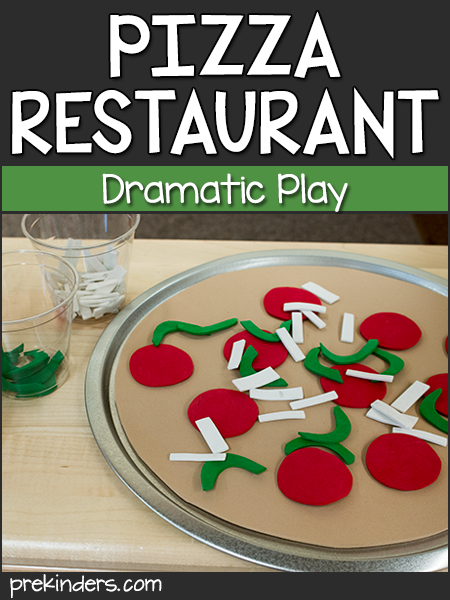 This is our Pizza Shop's awning. Our market shelf already has a fabric awning and I covered it with white bulletin board paper. Then I cut strips of red bulletin board paper and taped them on the white with masking tape. I added this "pizzeria" banner which I printed out and tied with ribbon. (More info on the banner at the end of the post.)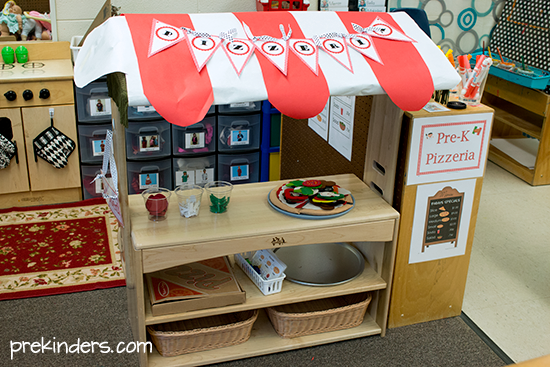 This photo shows the front of our Pizza Shop. Since my dramatic play shelf is located right near our House Center, the children can use the stove (which you see in the background here), sink, and refrigerator as part of the Pizza Shop as well. We have a "Pizzeria" sign and menu posted on the side of a shelf.
This is our House Center table and chairs which the children use as part of the Pizza Restaurant. I had a piece of red and white checked fabric cut at Hobby Lobby to use for a table cloth. The plates are from our House Center. This is the Hape Pizza Play Set which comes with a wooden pizza cutter. Another option is to buy a pizza cutter from a dollar store, but make sure the edge is dull.
This photo shows the back side of our Pizza Shop, with our Open/Closed sign and Pizza Shop menus on the back of our art shelf.
We started out using photocopies of these Pizza Order Cards, which we use for menus as well. Since the children were using so much paper, I decided to print these on card stock and laminate them to use with dry erase markers. (More info at the bottom.)
A closeup of our Open/Closed sign. I tied ribbon on it, and added a 3M hook to the side of the market shelf.
This is the Melissa and Doug felt pizza, which comes with a pan and pizza box. I was lucky and found it clearanced last year at Michaels.
The Hape and Melissa & Doug pizza sets are really neat, but you can also make your own pizza sets with sheets of craft foam. I cut pepperoni pieces out of red craft foam, mozzarella cheese pieces out of white craft foam, and green peppers out of green craft foam. The cups are disposable clear punch cups.
Cut a circle from a sheet of tan craft foam for the pizza crust, and add your craft foam toppings! I made sure I cut my pizza crust just the right size for a dollar store pizza pan.
I taped tomato paste labels around clear plastic Mason jars for play tomato paste jars. I found these clear plastic Mason jars on clearance on Walmart at the end of the summer. At the time, I didn't know how on Earth I'd use them, but they are perfect for tomato paste jars!
I taped spice labels on spice jars. Print the Tomato Paste and Spice Labels (PDF) here.
This cardboard pizza box came with the Melissa and Doug Pizza Set, but you could ask for free pizza boxes at your local pizza shop.
One day, I just happened to notice our blue mailbox and thought it would make a perfect pizza oven…
I covered the mailbox with aluminum foil and taped on the temperature. I have no idea if this is the correct temperature to cook pizza, but it seems like everything I bake is set to 350, so I went with it. The mailbox has the perfect opening to slide the Hape pizza right in.  I also placed wooden blocks in the bottom of the oven so that it would be even with the bottom of the opening and the pizza wouldn't slant down. I have to say, I don't do a beautiful job with aluminum foil, but the kids enjoy it anyway.
What would you add to your Dramatic Play Pizza Shop? Did I miss anything? Please share your ideas in the comments below!
Where it came from:
The market shelf with awning is the "Village Store" from Community Playthings.
I used several items from the Pizza Shop Dramatic Play packet sold at Pre-K Pages:
Pizzeria pennant banner
Menus and signs
Order cards
Open/Closed sign
Pizza pans are from the Dollar Tree. The mailbox is from Lakeshore. You can purchase the Melissa & Doug Felt Food Pizza Set
and the Hape Homemade Pizza Play Set
from Amazon.
Disclosure: I was not paid or compensated in any way to promote most of the products listed on this page. However, the Amazon links are affiliate links. I shared where I purchased each item to be useful to others.