This Jumping Frog Alphabet Game is a fun way to practice  or beginning sounds.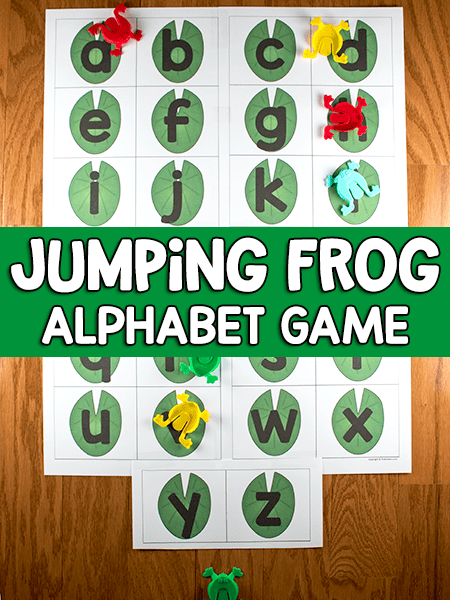 Prepare the Game
You will need the printable mat and a set of plastic "jumping frogs". The jumping frogs are usually available in dollar stores or the party section of discount stores, and they're very inexpensive!
The printable letter mats come in lowercase letters and uppercase letters, as well as a color version and a black and white version of both. Print out the mat onto 5 sheets of card stock paper. Assemble the sheets into one big mat using clear tape.
How to Play the Jumping Frog Alphabet Game
To play this alphabet game, give each child in the group one of the jumping frogs. Children take turns pressing the back of the frog to make it jump onto the letter mat. When the frog lands on a letter, they should try to identify that letter. If the frog lands off the mat, you might want to give them 2-3 chances. Then, if they still don't land on a letter, point to a letter for them to name. Continue playing!
Ways to Differentiate the Alphabet Game
More advanced kids can name a word that begins with the letter to practice beginning sounds.
If you have a child who needs to focus on just a few letters, maybe the letters of their name, you can easily make a mat by writing those letters on poster board or card stock paper.
If one child wants to play the game alone (maybe they chose it at center time), you can let that child have a set of about 8 frogs. They can make all 8 frogs jump on the mat as they name them, then clear the mat and try again.
Download the Large Letter Mats
Note: This is a free printable, just click to download.
These letter mats can be used for other activities as well.