What preschool kid doesn't enjoy collecting rocks? Here's an integrated science and math activity where kids have the opportunity to work with one of their favorite treasures.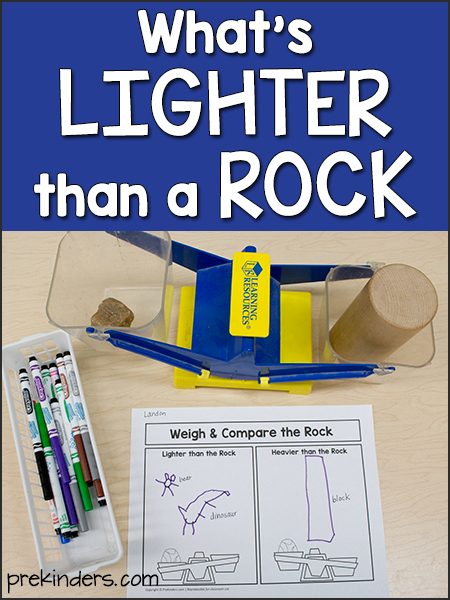 This is an activity you can have in your science center, or it could be used as a small group activity. For this activity, you'll need a balance scale, rocks collected by the children, and an assortment of objects found around the classroom. These are the objects chosen from our classroom: a small board book, a bear counter, train, hole puncher, scissors, marker, seashell, dinosaur, and a wood block.
Be sure to find a variety of things that will include both lighter and heavier than your average rocks. Other than that, the activity is pretty straightforward.
Children will place their rock in one side of the balance scale with different classroom items in the other side to see whether it is lighter than the rock …
… or heavier than the rock.
This printable recording sheet can be used for children to record what they found by drawing things that were lighter and heavier than the rock. (This is not a worksheet; recording sheets are different.)
My students also love to keep rock collections in the science center. We have both a store bought rock collection as well as a set collected by the children. Check out our Rock Collections here.
Download the Rocks Recording Sheet
Download: Printable Recording Sheet
Note: This is a free printable, just click to download.
Thanks to Ashley Hughes & Little Red for the great graphics used in this printable.