This St. Patrick's Day Path Game will help your preschoolers learn counting and turn-taking skills.
My group needed a change from the usual grid game, so I made this path game for March.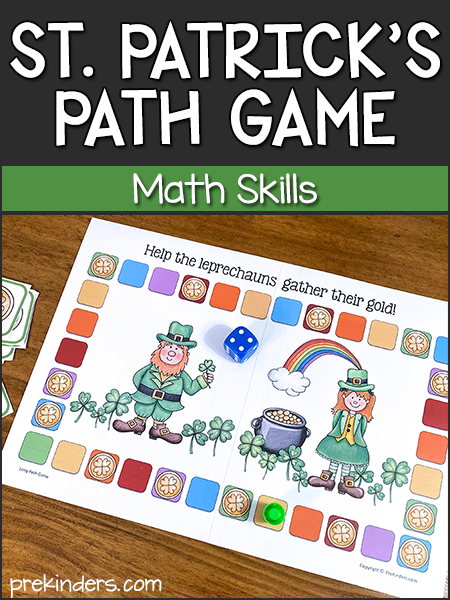 To assemble this game, print out each of the printables (links below). Glue-stick the two path game pages side by side on the inside of the file folder. Cut out and glue the title and directions on the front of the folder, and cut and glue the tab. Print and cut apart the shamrock cards.
To play the game, children will place their game piece on any spot on the path (it doesn't matter where because the game goes in a circle and does not have a beginning and ending point). For game pieces, I collected four green math counters from different sets: bear, rabbit, dinosaur, beetle. The players choose the one they want to use. Place the stack of shamrock cards beside the game board. You can use one or two dice. Children take turns rolling the dice and moving that amount of spaces. Anytime a player lands on a shamrock, they collect a shamrock card from the stack. (They must land on the shamrock, not just pass it.) Once all of the shamrock cards are gone, the game has ended, and the players may count their cards. I do not encourage them to compare how many they have with other players because with this age group, win/lose games only cause problems. With other age groups, it may be fine.
Depending on your students' attention spans, you can adjust the number of shamrock cards used. To make the game longer, use more cards; to make the game shorter, use less.
Hope your class enjoys it as much as mine!
Download: St. Patrick's Path Game
Originally published March 2010