This set of Shapes picture-word cards can be used in your classroom in so many ways.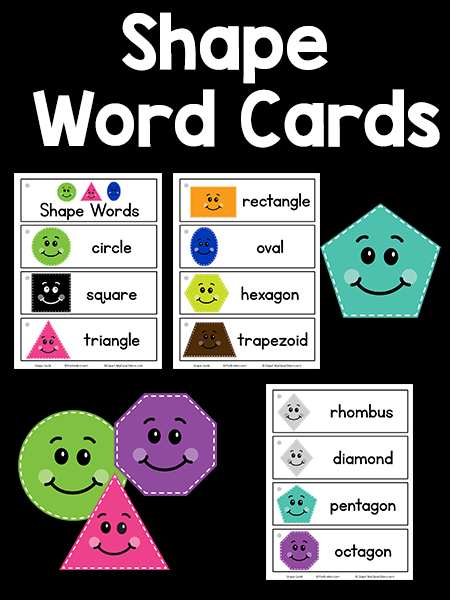 My Picture-Word Card collection is growing and growing, but until today was lacking a set of Shapes! This set includes probably every shape you could need, and I included a card for diamond and rhombus so you can choose the one you prefer.
How I use the cards in my classroom:
I put the picture-word cards in a pocket chart near my writing center. My prekinders are encouraged to take them out of the pocket chart and take them to the table if they want to copy the words on their paper. The children know to return the card back to the pocket chart when they are finished. They can also use the cards to spell words with magnetic letters or letter tiles.
More ideas for using these cards:
Hook them together on a binder ring to make a picture dictionary.
Use them on a word wall.
Use the blank set to write words in other languages or other writing styles (e.g. D'Nealian), or use them for modeled writing activities.
Pocket Chart or Ring Cards: A New Style
This time, I have made a new set that has a dot in the upper left hand corner of each card. You can punch a hole in that dot and hook the cards together on a metal binder ring. (You could also leave the hole unpunched and use these in a pocket chart.) The cards are also a different size than the others I've been making. If these cards with the punch hole are popular, I would like to add this style to the other sets.
Click the link to find more Picture-Word Card collections.
Download the Shape Word Cards:
Note: This is a free printable, just click to download.
Available In My Shop:
This printable uses graphics licensed by MyClipartStore.com.