These pretend play printables will encourage your prekinders to practice writing skills while playing. Most importantly, children have fun writing while they play, and they practice skills without even realizing!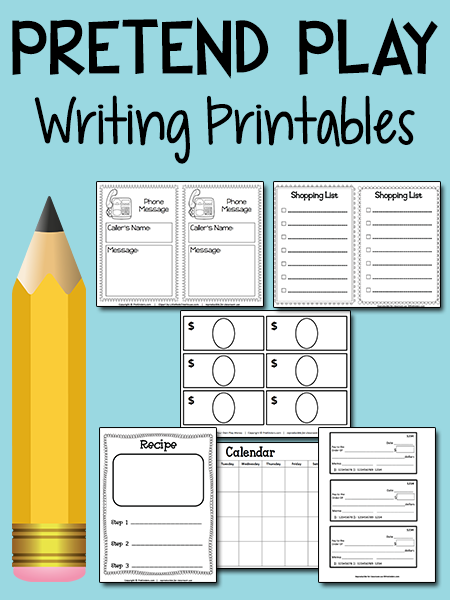 Pretend play writing printables are an effective and fun way to help preschool children practice their writing and fine motor skills.
These printables can also help children become comfortable with the idea of writing. By familiarizing themselves with the shapes, sizes, and structures of letters and words, preschoolers may feel more confident about trying out their own ideas on paper.
By introducing writing in a fun and engaging way, children can explore writing without feeling overwhelmed or intimidated.
Here are six printables that can be used in your Dramatic Play Center and/or House Center. Children will practice writing letters and numerals with these printables as they pretend to write phone messages, shopping lists, recipes, calendars, checks, and design their own money. You will often see younger preschoolers writing scribbles, wavy lines, and letter-like symbols. These are all important steps in the pre-writing learning process.
Shopping List Printable
Kids can use this shopping list while pretending to write our their grocery list. Each line has a box to the left that they can check off as the pretend to purchase their items. These fit well on mini clipboards.
Download: Printable Shopping List
 Printable Play Checks
Kids can use these printable checks to pretend to pay for their items at the grocery store, restaurant, doctor's office, etc. They can use these to practice writing numbers and letters.
Download: Printable Play Checks
Printable Play Money
Kids can design their own money with this printable. Allow children to inspect real money, and then design their own money by writing a number and drawing pictures. (Friends of this site in other countries can email me to request their money, if needed.)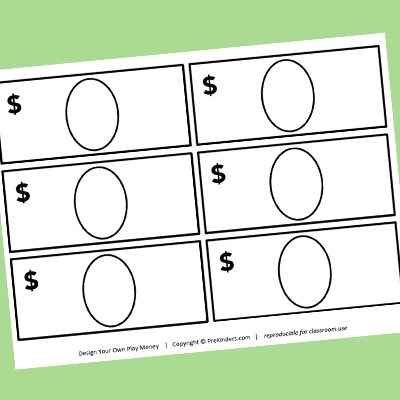 Download: Printable Play Money
Printable Recipe Card
Kids can pretend to write their own recipe by drawing a picture of their food in the box, and then write the steps to make the food on the lines below. Encourage children to write letters as well as numbers to represent how many of each ingredient.
Phone Message Printable
Kids can answer the phone and take messages for other people by writing on this Phone Message sheet. They will write the caller's name and message in the boxes.
Download: Phone Message Printable
Calendar Printable
My students love to write on calendars! Kids can write numbers, letters, or symbols to represent holidays, birthdays, and other special events.
I hope your children enjoy these writing printables for pretend play! I am working on another set of printables for the Writing Center, coming up soon! You can find more Pre-Writing Activities for Pre-K here.
Graphics Credits:
Pencil & Borders: Zip-a-Dee-Doo-Dah Designs
Phone: Little Red