Try these Preschool Spider Activities to teach children literacy, art, math, and fine motor. These activities make a great mini Spider Theme unit in the Fall. Find more Fall activities here.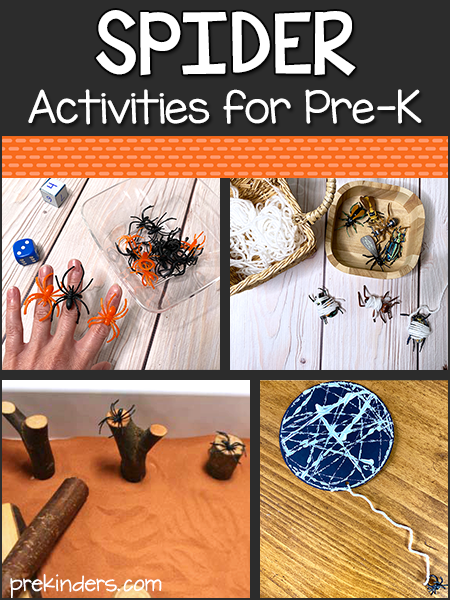 This post contains Amazon affiliate links.
Spider Books
Spider Web Large Group Activity
With a large group of children sitting in a circle or around a rectangle carpet, have children toss a ball of white yarn to each other. As the children catch the yarn, they hold onto part of it, and throw it to the next person. This makes a giant spider web.
Spider Wrap: Fine Motor Activity
Provide a tray with a bowl of plastic insects and a bowl of white yarn cut into pieces of about 12 inches long. Have the children wrap plastic insects with yarn, just like a spider would wrap an insect with it's silk to capture it. Then when they finish, have children choose wrapped bugs from the bowl, guess what kind they are, then unwrap them to see if they guessed correctly.
Spider Web Marble Painting: Art Activity
Cut pieces of black construction paper to fit the bottom inside of a pie pan. You can trace the pan for a pattern or use a compass to draw a circle. Children place a black paper circle in the bottom of the pie pan. Put white tempera paint into small bowls or small trays. Have children dip the marble in the white paint, put it in the pie pan and roll it around to make a spider web. When the spider webs are dry, we tie a plastic spider ring onto the web with yarn.
Materials needed for Spider Web Marble Art: black construction paper, pie pan, white yarn, spider ring, marble, white paint, small bowl (for paint), compass (to draw circle).
Spider Ring Math Game
This is a very simple game that is inexpensive and easy prep. Once Halloween toys are out in the stores, buy packages of inexpensive plastic spiders. These come in black as well as colors, and I try to get black for authenticity. Have children roll a die and place that amount of spider rings on their fingers. Once children have spiders on all ten fingers they have finished the game and can start over. Use game die with dots on them or make your own dice by writing numerals on cubes.
Dot Marker Spider Ring Game
Here's a Dot Marker game with printable recording sheet that you can use for Spider Ring Math. Read more and get the printable here: Dot Marker Spider Ring Game
Spider Web Science
Why do insects get stuck in a spider web, but the spider does not get stuck? It's because the spider's web is sticky, but spiders use an oily coating on their legs so they don't get stuck. Here's an experiment to help children understand this concept.
Cut two pieces of clear Contact paper (or other clear adhesive paper) and draw a spider web on both pieces with a permanent black marker (such as a Sharpie). To draw the spider web, leave the paper backing on and draw the web on the non-sticky side. After you've drawn the web, peel off the paper backing and lay the clear adhesive sheet sticky side up. Tape the four corners down to the table.
Pretend your hand is a bug, with our "bug legs" (your fingers) sticking to the web. Using the other square of contact paper, pretend to be a spider, dipping your "spider legs" (your fingers) into cooking oil first, then walking across the sticky web. Let each child in your group have a turn to walk their fingers across the web like a bug, then dip their fingers in the oil to walk across like a spider. Depending on how many children you are working with, you might need to place more squares on clear adhsive spider webs around.
In my opinion, science is better learned and experienced when every child gets to actively participate, so I would suggest doing this at small group time rather than large group. Every child won't benefit if they only get to watch.
Article: "Why Don't Spiders Get Trapped in their Own Webs", by Popular Science
Spiders in the Sensory Table
Place sand in the sensory table with Tree Blocks and plastic spiders for creative play. I like to use Jurassic Sand because it's dustless and safe. We don't want kids to breathe sand dust (as you can see in this ALA article). The plastic spiders I used are spider rings with the ring part cut off.
Note: I'm not paid to advertise for the Jurassic Sand company — it's simply a sand I've used for years in my classroom and love. They have offered a discount code, especially for PreKinders readers: Enter "PREKINDERS 10%" (with a space) for 10% off.
Spider Nursery Rhymes
Two nursery rhymes that go well with a Spider Theme are Little Miss Muffet and the Itsy Bitsy Spider.
You can get posters for Little Miss Muffet and Itsy Bitsy Spider on the Nursery Rhymes Page. (These are free printables.)
Spider Resources from the Shop
Spider Learning Resources
Links from Around the Web
Try these Spider Activities from other great sites: