In my classroom, I typically have one or more ongoing class projects that last through the year. In 2008, I chose to replace journals with bookmaking. It was an exciting experience for my class because the children felt like real authors making real books. I read the book Already Ready, by Katie Wood Ray and Matt Glover when it was published, which really sparked my interest in doing bookmaking in Pre-K.
One of the reasons I chose bookmaking was that I had noticed some children dictated really, really long stories to be written in their journal that were too long for one page and for one illustration (this is also mentioned in the book, Already Ready). Some children would continue to tell a story as long as I would write. Bookmaking "magically" solved that problem. I had also noticed a few children would make a continuous "novel" out of their journal by writing about the same topic on every journal page. I recall a child whose entire journal was about ghosts, another child whose journal was all about rainy days, and another whose journal told the various adventures of her one-eyed cat. Perhaps that is because in their experience of books, each page reflects the same topic. Most children have no experience with journals.
Reasons for using bookmaking with children:
It is project-based learning.
It is child-centered; children are able to follow their own interests in making books.
Books are familiar to young children; journals are not.
Since art is a child's "language", they can focus on composing stories through illustrations and/or symbolic writing.
Children know that books are a real form of published writing; a single piece of paper is not. -Ray and Glover, Already Ready, 2008
Children no longer create long stories for one page because they must use multiple pages to make a book. They understand that they must turn a page to tell the next idea in the story. -Ray and Glover, Already Ready, 2008
Important things to remember when doing bookmaking with children:
Allow children to choose the topic and genre of their books.
Allow children time during the day when they can choose to make books.
Set up the classroom with easily accessible bookmaking supplies.
Allow children to make revisions to their books.
Allow time for children to share their books by "reading" them to the class, friends, or other teachers.
Allow plenty of experiences with books: Expose children to different genres; Explore the parts and "ingredients" of the books you read.
Children have many opportunities to make books.
Children have opportunities to share their books with the class or other teachers.
Genres
When children are exposed to a variety of genres, they will be more likely to incorporate different genres into their bookmaking.
Informational Books
How-To Books
Counting Books
ABC Books
Poetry Books
Series Books
Fiction Books
Biography Books
Book Features
When reading books to children, point out the features you find in the book.
Author
Illustrator
Setting
Beginning, Middle, End
Cover
Title Page
End Pages
Vocabulary Pages (See this list for book examples)
Illustrations
Text
Thought Bubbles (example: the "Pigeon" books by Mo Willems)
Book Awards
Book Dedication
Page Numbers
Characters: who they are, what they do, what they say (See this list for examples of books with good character development; great for discussing characters in a story).
Artistic Media (Illustrations)
Books use a variety of artistic media to illustrate the books. Sometimes the type of media chosen is important to support the type of book the author is writing. Some books combine media. For example, the book Knuffle Bunny, by Mo Willems combines photography with drawings. Allow children to use different types of media in their bookmaking projects.
Drawing
Colored Pencil
Crayon
Watercolor Paint
Tissue Paper (Example: books by Eric Carle)
Fabric
Photography
Basic Supplies for Bookmaking
It is very important that bookmaking supplies are well-stocked and easily accessible to children. Children lose interest in bookmaking when supplies are not easily accessible to them. Place them in the classroom where children can get them without asking for them.
Pre-made blank books
Paper, staplers, tape (for children who like to make their own books)
Crayons
Markers of different thicknesses
Fine point pens and pencils
Colored Pencils
Camera for children who want to illustrate a book with photography
Place to store unfinished work
Place to showcase the children's books in the Reading Center
Bookmaking supplies are easily accessible to the children: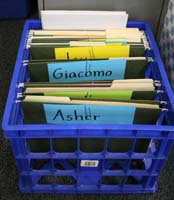 This is a file crate we use to store our unfinished work. Each child has a hanging folder with their name on it. The crate is easily accessible to the children.
Bookbinding Methods
The simplest: Fold 3 sheets of 11×18 inch paper in half and staple. If your children are typically using more than 6 pages, you can adjust the amount.
Make a posterboard cover that is 8×24 inches. Fold it over, insert 8×12 inch sheets of white construction paper inside, and staple.
Recycle manilla file folders for book covers. Trim the folders with a paper cutter to fit the size of the paper you use.
Allow children to come up with their own bookbinding methods.
Do not get caught up in making the children's books "cute", with shaped pages or complicated formats. Let the child choose how the book should be made.
Occasionally bind a child's book with a nice binding to give it the look and feel of a published book. You can bind it yourself or purchase pre-made hardcover books.

Dictation: To Write or Not to Write?
While some may disagree with me on this point, I leave that decision up to the child. I have some children who ask me to write their dictated sentences on each page of their books, and when they ask, I do write their dictation. Some children prefer to leave their pages text-free, and let the illustrations tell the story. Some children write their own text on each page by writing letter-like symbols or strings of letters. Some children will ask me to spell words for them. I've also had children who wrote their own text, yet came to me and requested that I write their words in the book.
I had one little boy tell me he did not want me to write in his book because, as he said, "I don't need you to write words in my book. I already know the words I need." When a child does not ask me to write their words in their book, I tape record them reading it. I later transcribe the recording along with page numbers, and tape the transcription in the back of the book so their parents and other adults will understand what the book says.
Additional Tips
One thing I noticed when we first started bookmaking in my class, was that most of the children were initially very interested in the project and went "full steam ahead". Once, when coming back to school after a week-long break, I noticed no one had written any books for several days since we had come back. A few days after that, a child asked me, "When can we write books again?" I realized that even though we had the supplies available and the crate for "unfinished work", children may need to be reminded of the bookmaking project from time to time. They also need to be allowed time to share their books with their classmates or other teachers to keep them interested. If they feel like writers, they love to write, but they only feel like writers when they have an appreciative audience with which to share.
I teach the children to write the page numbers in their book when it is complete (after revisions).
Use index cards to make "story idea cards". The children are always telling me a story about their lives, usually a story about how they got a cut, or about buying their new shoes, or what their cat did last Saturday. Write these stories on story idea cards with their name at the top, and stick them in a pocket chart or another place where the children can see them. When children are having difficulty thinking of ideas to write about in their books, you can read their own ideas from the cards.
I do not require the children to make books; I encourage.
Examples of Books
These are a few examples of books made by my students.
Monster Trucks, by Sean
This is an example of a book with child-written text.
This is what the book says, according to Sean:
Page 1: "Gas makes it go."
Page 2: "Next day, gas in the monster truck."
Page 3: "Next day, another monster truck."
Page 4: "Very, very high monster truck. A whole lot of gas."

Any Kind of Aliens, by Asher
This is an example of a book without text. The illustrations tell the story.
This is what the book says, according to Asher:
Page 1: "The aliens were jumping in their ship."
Page 2: "They kidnapped somebody."
Page 3: "They go and crash on Pluto on the big rock."
Page 4: "So they got a new ship."

Monster Trucks, by Giacomo
In this book, the child asked me to write his words on the pages.
This is what the book says, according to Giacomo:
Page 1: "The monster truck crashed the car."
Page 2: "The monster truck found the car."
Page 3: "He went inside the store."
Page 4: "He had to go get some gas."
Page 5: "Then he came out of the store."

Don't miss the literacy resource page!