Polka dot art is a fun exploration with paint for prekinder kids and it's also a great fine motor activity. I was originally going to call this pointillism art, like the technique used by Seurat. Then I decided that polka dot art would sound more interesting to preschool kids. I still think it's a great idea to teach them the word pointillism and show them some paintings by Seurat.
I chose to use an apple shape for this post because of the season. Polka dot art can be done with many different shapes and themes (or even abstracts). You could also have children draw a shape rather than use a pre-printed one.
I have seen this done with cotton swabs (Q-tips), however, I prefer to use pencil erasers instead because the cotton on the cotton swabs tends to unravel. Here's how to use pencils for polka dot art.
You're going to be using the round pencil eraser for painting, but the pencil acts as a handle. I wanted my pencils shorter, so I used my hand saw to cut the pencils in half. This really doesn't take long to do and is not hard at all. You can find these gadgets in the hardware store. They're not expensive, and I've found mine to be handy for all kinds of things. Since they're just pencils, I'm guessing you could cut them with a serrated kitchen knife as well.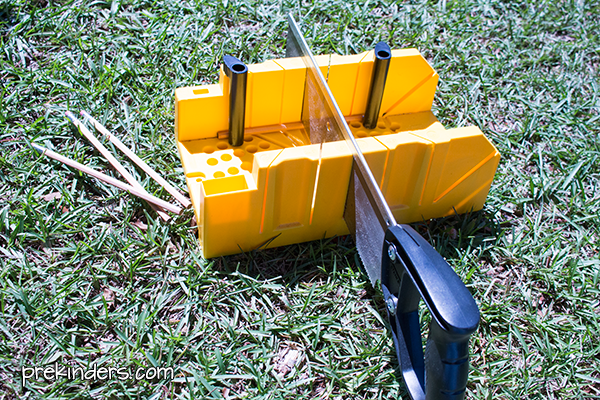 Then, use a sanding block to sand the ends a little.
Next, get your paint ready. I love to use these plastic paint trays because the wells are small. You don't want a big cup of paint for this. You can buy these paint trays at craft and hobby stores. You could also just add a little paint on a plate.
I love to have kids do artwork with varying hues of one color, so for this apple, I chose hues of green paint. To make hues, you simply start with a darker green and add different amounts of white to get lighter tints. Or, you can add a dark color (black or navy) to get a deeper green. You can use regular school tempera paint to do this. (I mix tempera paint colors all the time!)
In the picture above, I started with "apple green" (top left), which you can make by adding yellow to green. The paint at top right has white added. I added a little bit of navy to the middle right, and it made this really pretty deeper green (see below).
Either trace or print a simple shape that you want kids to paint. This could match the theme, season, or the kids' interest. You need to make the shape smallish because pointillism takes time and patience. Something larger will take too long and younger kids might not have the attention span to complete it. My apple is about 4.5 inches tall.
You can use one pencil per hue of green, or you can actually just use one because it doesn't matter as much if the greens mix.
Dip the pencil eraser into the paint and stamp it on the apple shape. Keep going until it's filled in and you have polka dot art!
I recommend using a thick paper, if possible.
Tip: If you want to use a shape the children draw themselves, but need it to be bigger or smaller, here's what you can do. Just scan the drawing, insert the image into a program like Word or PowerPoint, reduce or enlarge it, and print it.