In my classroom, we have a Play Dough Bakery that stays in our classroom all year. This is a creative and fun way for kids to practice building the fine motor muscles they need for gripping a pencil and writing.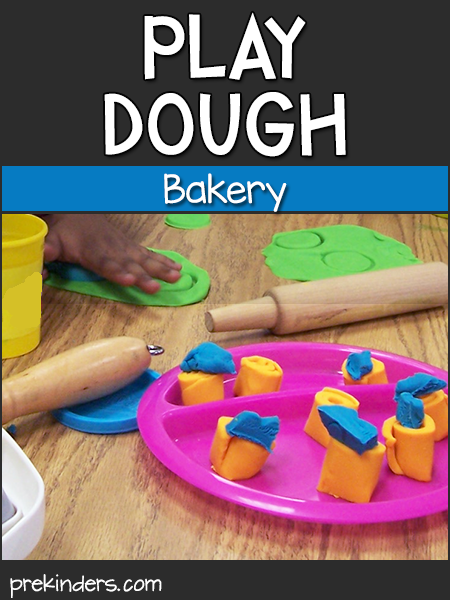 Children love to make play dough food and "serve" it to their teachers and friends.
Sometimes they create their own pretend-play restaurants, ice cream shops, bakeries, and pizza parlors using the Play Dough Bakery. I've even seen them write receipts for things they "sell".
Make Your Own Play Dough Bakery
To make your own Play Dough Bakery, collect spoons, plastic knives or metal knives that are not serrated or sharp, cookie cutters, muffin tins, mini bread loaf pans, small cookie sheets, spatulas, rolling pins, pots and pans.
Many of these can be picked up at yard sales, second hand stores, or discount stores. This toaster rack came from an old, broken toaster and makes a great grill or oven rack for pretend play. A friend donated the George Foreman play dough grill.
These plates and bowls came from a dollar store. The ice cream scoop, which also came from a dollar store, is very useful for scooping play dough out of play dough containers.
I found the birthday candles on a recent trip to the Dollar Tree. These lasted a while, but if kids are prone to breaking the candles, you can use pegs from a pegboard set. Or buy a dowel rod from a craft store and cut it with a small saw. Dowel rods are inexpensive and come in a variety of sizes. You can also cut a thicker dowel rod to use as rolling pins. Just be sure to sand the ends.
Play Dough Resources
Check out these Play Dough Recipes to make your own. Find more Ideas for Playing with Play Dough here.