Here are some St. Patrick's Day Leprechaun Play Dough Counting Mats that your prekinders are sure to enjoy during St. Patrick's Day. There are more counting mats on my play dough math mats page, so be sure to check them out.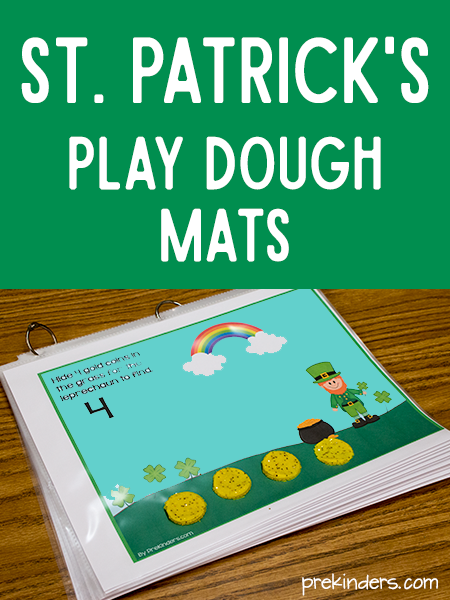 Print the mats and either laminate them or slip them into clear page protectors. I usually put them in page protectors and hook them together with metal binder rings to make them like a flip book.
The top of each mat says, "Hide [#] gold coins in the grass for the leprechaun to find." Children are always told that leprechauns like to play tricks on people, so I'm going to tell my prekinders to play a trick on the leprechauns by hiding the gold coins in the grass! Children will identify the numeral on each page, and count out the correct number of coins to place on the mat.
There's also a toddler mat for children who are not ready for counting yet, but need the fine motor practice. This mat simply says, "Hide gold coins in the grass for the leprechaun to hide." If you need numbers higher than ten, I suggest using the toddler mat and writing in the numbers you want with a bold black marker.
Here's how children will make the "gold coins" for the play dough mats. Save a cap from a 16-20 ounce disposable bottle of water. Children will flatten their play dough and use the bottle cap as a play dough cutter to cut out little circle "coins". For fun, you can knead some gold glitter into yellow play dough to make it look more like sparkly gold coins.
As an alternative to play dough, use yellow plastic bingo chips or gold coins purchased from a party supply shop or circle shapes cut from craft foam.
Download the St. Patrick's Play Dough Mats
Note: This printable is FREE. Just click to download.
Download the St. Patrick's Counting Mats:
Download the St. Patrick's Toddler Mat:
Available in My Shop:
Books to Read with This Activity
Need more activities? Find them on my St. Patrick's Activities page.
Graphics by Jennifer Hier