These printable Fish Cracker activities can be used with "Pepperidge Farm Goldfish Colors". It's fun to use these activities with an Ocean Theme.
You might not want to do all of these fish cracker activities with your class — just pick and choose the ones you prefer. The Fish Cracker Sort & Count might be more suited to Pre-K and the Fish Cracker Counting Sheet might be more suited to Kindergarten, but that is entirely up to the individual teacher and group of children.
Fish Cracker Activities: Sorting & Counting
Children sort fish crackers by color onto the colored fish on the mat. When they are done, then have children count how many fish of each color and write the number on the fish. These could be laminated and used with dry erase markers if you don't want to print one for each child.
There is also a black and white option included to save colored ink.
Download: Fish Cracker Sorting
Fish Cracker Activities: Counting Sheet
Children place one fish on each fish on the paper. You might want to have them color the fish the same colors as the crackers.
Then they count how many they have of each color and write or stamp the number in the space. It would be a good idea to underline each color word with the same color marker for non-readers.
Children could also stamp the fish with bingo dot markers to represent the colors of their fish crackers.
Download: Fish Cracker Counting Sheet
Fish Cracker Activities: Graph
This is similar to the Counting Sheet, but in a graph style. Graph and count how many fish of each color. Optional: Have children color the graph. This comes in color or black and white.
Fish Cracker Activities: Patterns
This set includes the patterns: AB, ABC, AABB, AAB, and ABB. Print these out and laminate so they can be wiped clean if they get messy. The cards can be cut into individual cards or just leave four to a sheet.
Download: Fish Cracker Patterns
Duplicating a Pattern
On these printable pattern cards, children can place the fish crackers on top of the colored fish to duplicate the pattern.
Extend the Pattern
On these pattern cards, the colored fish show the start of the pattern. Children will extend the pattern, or "finish the pattern", by placing the fish crackers onto the blank white fish.
Black and White Pattern Pages
The black and white pattern pages can be used for children to record their own patterns. You can have them color the fish or use bingo dot markers.
I hope you enjoy using these Fish Cracker Activities with your preschoolers and kindergarteners! Find more Ocean Activities here and more Pattern Activities here!
You'll Also Like This Ocean Visual Discrimination Pack from my shop: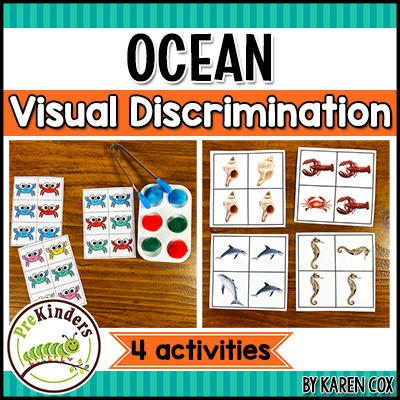 Get the Ocean Visual Discrimination Pack here!
Originally posted May 2011 – Updated May 2022SaveSave