Here are two sets of Pet play dough mats for a Pets Theme: one with dogs and one with cats. These will help children with fine motor skills as they practice counting and numeral identification.
Play dough math mats are a great way to combine fine motor skills, counting skills, and play!
Pet Play Dough Mats
To prepare the mats, print and either laminate or slip them into clear page protectors. You can put them in page protectors and hook them together with metal binder rings.
The top of each mat says "Put [#] pieces of food in the dog's bowl." Or, for the cat, "Put [#] pieces of food in the cat's bowl."
Children will identify the numeral, and count out that amount of dog or cat food pieces to put in the bowl.
Children can create the dog and cat food by rolling pieces of brown play dough into a ball. As an alternative to play dough, you can use pom poms, flat floral marbles, or other manipulatives.
I also made a mat that does not have a number, but simply says, "Put some food in the dog's/cat's bowl." This mat is for toddlers who are not ready for counting yet, but need to practice fine motor skills with play dough. You can also use this mat for higher numbers, such as 11-20.
Click to Download the Pet Play Dough Mats:
Note: These mats are free printables. Just click to download!
More Pet Resources You'll Love: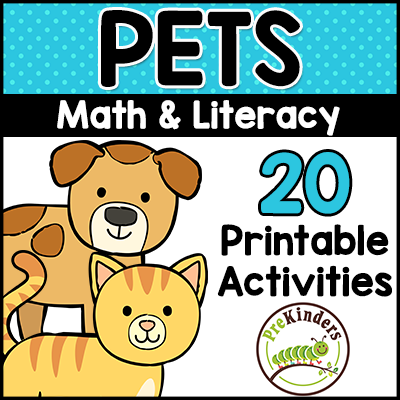 Pet Math & Literacy Printables
This set includes 20 Pet Theme math and literacy activities for small group or center time.
All activities are hands-on learning and designed especially for Pre-K and Preschool.
---
---
Originally published September 2011. Updated September 2021.