The newest set of picture-word cards for the Picture Word Cards collection is the much-requested dinosaurs set! There are actually two sets. One set has 12 dinosaur cards with their looong names and pictures. The other set has a variety of words related to dinosaurs (egg, bone, claw, volcano, etc.) which are shorter and probably easier for prekinder kids. However, you may have some young paleontologists in your class who will want to write (or at least look at) the long dinosaur words.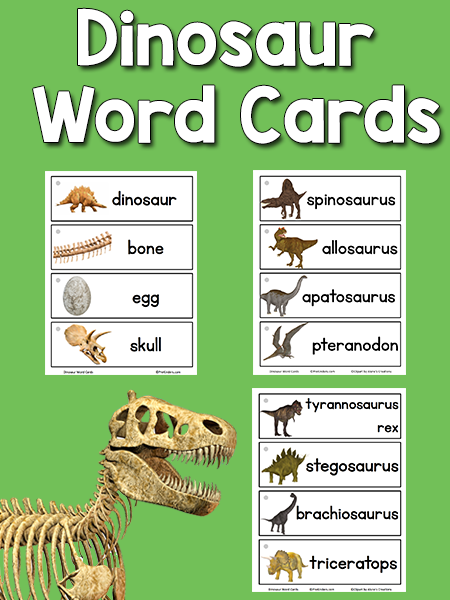 Using the cards in the classroom:
Use the word cards in a pocket chart on the wall of your writing center, or make picture dictionaries with them.
You can make picture dictionaries by punching a hole in the corner and hooking them together with binder rings. Use the gray dot as a guide for punching holes. You could also bind them with binding combs. The picture dictionaries work great if you don't have space for a pocket chart, or if you want to keep other sets of picture word cards in the writing center.
My prekinders take the word cards out of our pocket chart and take them to the table to copy onto their paper. It's simple to slip them back into the pockets when they're done.
The blank set can be used to write words in other languages or other writing styles (e.g. D'Nealian); or use them for modeled writing activities.
Click the link to find more Picture-Word Card collections.
Download the Dinosaur Word Cards:
Note: This is a free printable, just click to download.
The dinosaur names printable uses graphics licensed by Aisne's Creations. The dinosaur words printable uses images by iStock (used with permission).
Letter Tile Cards
I also have these cards available as Dinosaur Letter Tile Cards which are available FREE on Teachers Pay Teachers. I wasn't able to include the longer words for these, so there are only 9 cards in the set. Click the image below to take a look…