This Community Helpers Bingo game will help your students practice identifying the names of community helpers. I also have a set of Community Helpers Cards you can use with your Community Helpers theme.
I had made a bingo set and card set with illustrated clipart before I realized I could find all the community helpers in photographs, so I ended up making both. Choose whichever you prefer.
Community Helpers Bingo Game
The Community Helpers bingo game is played the way all standard bingo games are played. Each player gets a bingo mat. To cover the pictures while playing the game, you could use plastic bingo chips, flat floral marbles, or Unifix cubes.
The photo version of the bingo game has enough cards for 4 players, and the illustrated version has enough cards for 8 players. What I do when I have more than 4 kids (or 8) in a group is simply print extra cards. It doesn't matter if two children have the same card and fill their cards at the same time. We really don't play to win or lose with bingo games in my class. Pre-K children don't handle competition very well, so we all play until everyone fills their card.
Download: Photo Bingo | Download: Illustrated Bingo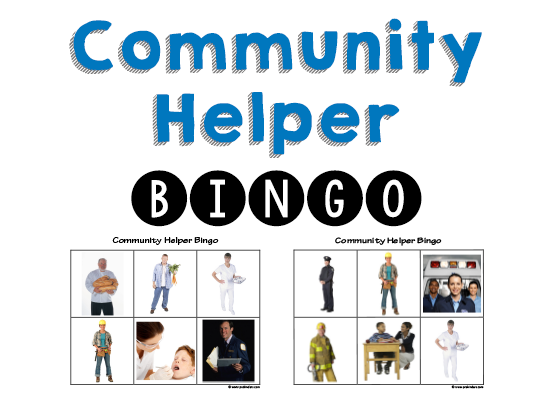 Community Helpers Cards
These Community Helpers Card Sets can be used in a variety of ways. These cards could be used as calling cards for the bingo game, or as visuals while having class discussions about community helpers. They could be used in a variety of games and activities.
Download: Photo Card Set | Download: Illustrated Card Set
Graphics used in these printables licensed by Little Red.