Here is a new set I have created to add to the Picture-Word Cards collection. This Color Word Card set includes red, pink, orange, yellow, green, blue, purple, brown, black, white, and gray/grey.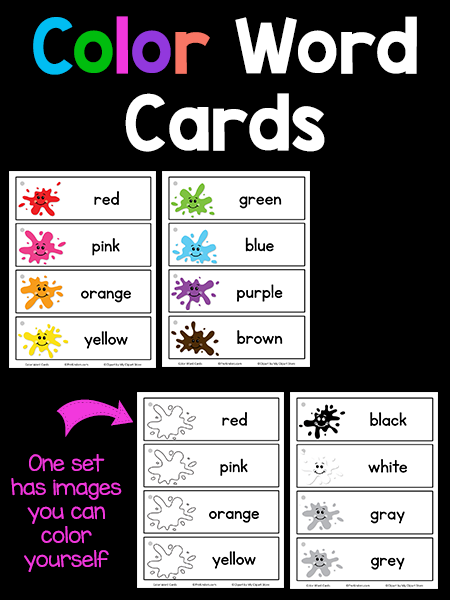 How to use the word cards:
There are a few ways you can use these picture-word cards and display them.
Punch a hole in the corner and use a metal binder ring to hook the card set together. Then you have little picture dictionaries.
Place a pocket chart in your Writing Center, and place the cards in the pocket chart. Kids can take the words out of the pocket chart to take to the table if they want to copy the word on their paper.
You might also want to put them in the pocket chart during the theme, then later hook them on a picture dictionary ring to add to a collection of thematic words through the year.
You can use these cards to practice clapping or stomping the syllables in the words.
The blank set of cards has the picture without the word. These can be used for other languages or other writing styles, such as D'nealian, or use them for modeled writing activities.
Download the Color Word Cards:
Different kinds of printers often print colors differently. The set below is in blackline for you to color in yourself. I provided this set in case your printer does not print the colors on the cards in their true colors.
Note: This is a free printable, just click to download.