Here are 10 fun, hands-on activities for exploring colors in Pre-K. Pre-K children don't need a coloring worksheet to learn colors. They can learn through exploration!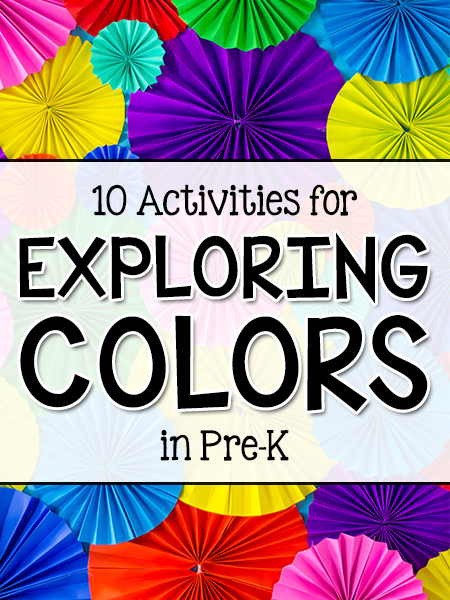 Color Flags
I made these flags from sheets of felt, cut in half, and hot-glued them to dowel rods. We use them with color songs, such as "Colors All Around" and "A Rainbow of Colors".
Gummy Bear Song (by Dr. Jean)
A fun song for teaching colors: read the post at this link and get the printable: Gummy Bear Song
I See Colors Book
Make a layered book by folding it where each page is a little longer than the one before. Each page has a different color with the words "I see red" or "I see yellow". Children draw pictures (with matching color crayon) on each page, or cut out pictures from magazines to glue in the book.
You can also print out this Colorful World book for children to draw pictures in or glue magazine pictures.
Graph
Make a graph of children's favorite colors. Each child chooses one Unifix cube of their favorite color. Stack each color to make an object graph.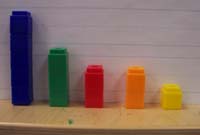 Color Mixing with Water
Children experiment with mixing colored water. Use the primary colors (red, blue, yellow) to make new colors. Red, blue and yellow food color is added to water in a clear cup. Children use eyedroppers to get the colored water they want and mix the colors in a paint tray. We use plastic paint trays with 6 mini bowls. Children can dump their water into a bucket once they have filled the 6 bowls and start again. They can put drops of the colors they make on a paper towel, so that it can be saved.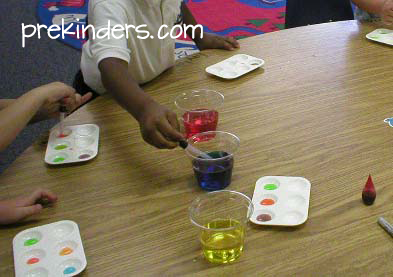 Color Mixing with Paint
The children are given a mixing tray, paintbrushes, and cups of paint with red, yellow, blue, white, and black. The clear mixing trays in the photo were leftover packaging from Easter eggs, but anything can be used. The red, yellow, and blue paint are the primary colors used for mixing secondary colors (green, purple, orange). The white is for making tints and the black is for making shades of color. The children freely experiment, mixing any colors they chose.
Colored Snack Spread
Children mix food coloring in white icing or soft cream cheese, spread the icing on graham crackers or a bagel half, and add a topping (sprinkles or semi sweet chocolate chips).
Color Collages
Have children search through magazines for red pictures, and glue them onto red construction paper. Do the same with each color and use these as posters for the classroom.
Another Idea: Cut fabric of different patterns and colors into 1-inch squares, and give children different colors of construction paper cut in half. Make sure to have several patterns of each color fabric (ginghams, stripes, florals, plaids, polka dots). Children glue the pieces of fabric onto the matching color of construction paper (blue fabric on blue paper, yellow fabric on yellow paper, etc.) These can be made into a book or quilt.
Color Dice Printable
I made these cards that will fit into the Carson Dellosa Roll & Learn Pocket Cubes (Item #CD-140002). You can also use this printable to make your own dice by recycling a small Priority Mail box or other small cardboard box. Cover the box with wrapping paper or bulletin board paper. Print out the dice printables, cut them out, and glue them onto the sides of the box.
To play: Children take turns rolling the die. When the die stops rolling, the child will look at the color on top, and find something in the room that is the same color.
Color Sorting Cups
Label clear punch cups with color names. Children sort a collection of small objects into the cups by color. Examples: crayons, small blocks, silk flowers, counting bears, ribbons, cloth pieces, colored rocks, leaves.

Color Bottles
Make color discovery bottles by putting colored water in a plastic sealed test tube or a drink bottle. Soap or oil can be added to the bottle for "special effects". Color bottles also make an interesting decoration if placed on a windowsill or shelf.

Color Search
Tell the children a color they are to find, and have them search around the classroom for one thing of that color. Everyone comes back to the circle, and the children share what they found.
Books
A list of color books for Pre-K children: Books
Songs
Gummy Bear Song, by Dr. Jean: MP3 Download and Activity
A Rainbow of Colors ~ We All Live Together Vol. 5, by Greg & Steve
More Resources
These packets for teaching Colors are available in my shop.