These Christmas pattern block mats are a fun way for kids to learn while they play. Pattern blocks teach children about shapes and geometry, as well as develop their visual discrimination skills.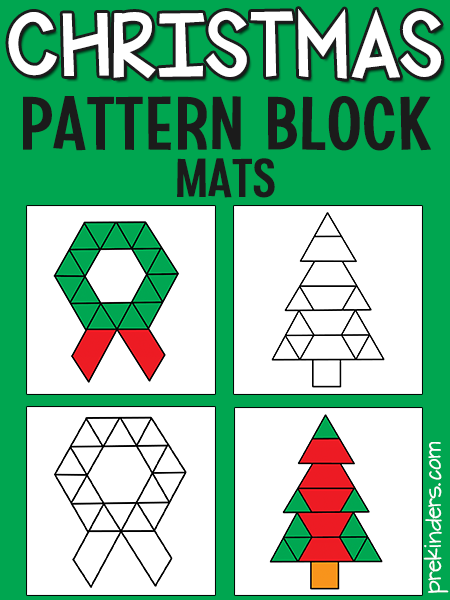 More free printable pattern block mats are available on the Pattern Block page. Each mat comes in color and blackline, depending on your preference. The blackline mats offer more of a challenge as children figure out which shape goes in the space. Click on the thumbnails to download and print the mats.
Need more pattern block mats? If you like these, you'll want to check out my Pattern Block Mats page. You can also read more about pattern blocks and where to get them.
IMPORTANT!
These mats are for classroom use only. Do NOT put these pattern block mats on your own site or blog. (Provide a link instead.) Do not sell them. Do not remove my copyright. No derivative works. Thank you for following my terms of use.
These mats are my own work: I came up with all of the designs, and made the mats using Photoshop.
Click the images below to download & print each pattern block mat:
To download the mats, just click on each picture to get the PDF file, and then print. I have printing help here.
---
More Christmas Teaching Resources…