These Christian Easter Picture-Word Cards were designed for use in Christian Preschool programs, Sunday School, or homeschool. Print these cards for your writing center during the Easter season! Words included are Jesus, palm leaf, cross, 3 crosses, donkey, disciple, angel, Mary, Pilate, soldier, crown of thorns, bread, coin, dove, & tomb. This set has 15 word cards.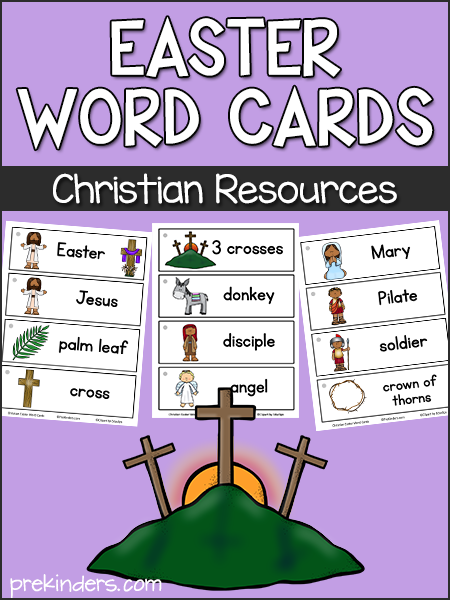 Find more word card sets in the Picture Word Cards collection.
Find more Christian Easter activities here.
How to use the word cards:
These cards can be placed in a pocket chart for the Writing Center area. Kids can take the cards out of the pocket chart to take to the table if the want to practice copying the words.
You can use these cards to practice syllables at large group time. Show the card and have children practice clapping or stomping the syllables in each word.
Make little picture dictionaries with the picture-word cards. Each card has a hole at the top left corner: punch a hole and bind them together with a metal binder ring.
The blank set of cards has the picture without the word. These can be used for other languages or other writing styles, such as D'nealian.
Download the Christian Easter Word Cards:
Note: This printable is FREE. Just click to download!
Clipart by Educlips.