Here are some printable center signs for your Pre-K or Preschool classroom.
I have a free set of signs available, but the set of center signs in my shop are really the best by far.
Center Signs in My Shop
This set of Center Signs has a bold black polka dot border and includes a printable PDF file as well as an editable PowerPoint file. If you want to change the titles of the centers on these posters just click the text and change it to your own words!
Here are a few sample images: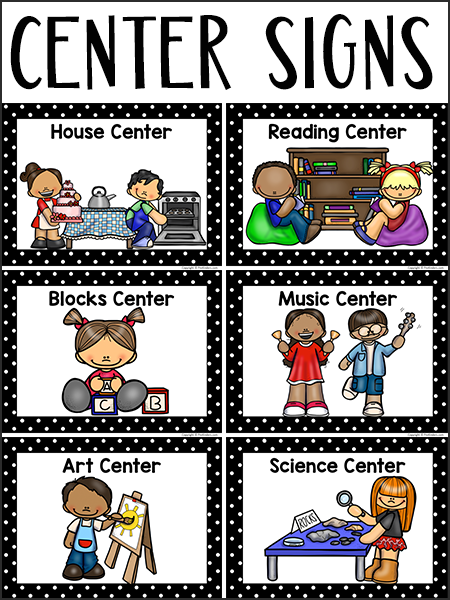 Get the Center Signs Here:
Click Here to get the Center Signs on TPT
There are 26 Center Signs included:
Blocks Center
Art Center
House Center
Dramatic Play
Sensory Table
Science Center
Literacy Center
Writing Center
Math Center
Music Center
Reading Center
Listening Center
Fine Motor Center (alternate: Puzzles)
Tech Center (2 signs: shows computer & tablet, other shows smart board)
Pocket Chart Center
Games Center
Manipulatives Center
Play Dough Center
Snack Center
Calming Corner
Train Table
Social Studies
Puppets
Building Bricks
Bible Center (two versions: one with a Bible and one with a Biblical scene)
Circle Time Area
Get the Center Signs Here:
Click Here to get the Center Signs on TPT
Free Center Signs:
These are the free printable center signs I made back in 2010. I don't feel the clipart is up to today's standards, but I'm leaving them here in case anyone would rather have the free set than the set in my shop. Click here to download.