These carrots were a recent find at the Dollar Tree, and when I saw them, I knew I could use them for some kind of neat activity. They come with three carrots in a pack for $1.There were located in the same area with plastic Easter eggs. This activity would work well with Easter or Spring themes.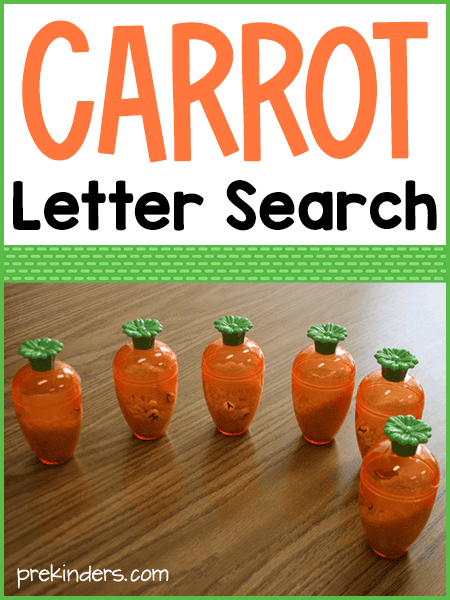 I decided to make a letter search game by putting rice and letter beads inside. Each carrot has 4-5 letter beads inside. There is one bead for each letter of the alphabet somewhere in one of the 6 carrots. The lids fit tightly, but I put a band of clear tape around them just to make sure they don't come open. The carrots are translucent, so it is easy for the children to see the letters inside. They have to shake or turn the carrots to show all of the letters.
I made these Carrot Letter Search mats to go with the activity, so the children can record the letters they find. These could be used by either marking the letters with a bingo chip, a flat floral marble, a bingo marker, or by drawing an "X" with a marker. I made printable uppercase and lowercase mats.
Download the Carrot Letter Search Printable
Download: Carrot Letter Search Uppercase
Download: Carrot Letter Search Lowercase
What skill are children learning with this activity?
They are practicing visual discrimination skills by searching and matching letters, as well as letter matching skills.
Alternate Carrot Game Activity
These carrots could also be used for a counting activity. Place a different amount of colored plastic beads in each carrot, and have children count how many beads are in each one. They could match them to numeral cards and put them in numerical order.
Available in My Shop: