I made these bug jar mats to go with the bug math manipulatives I have in my classroom. Read more to find out how to use these mats and get the free printables below!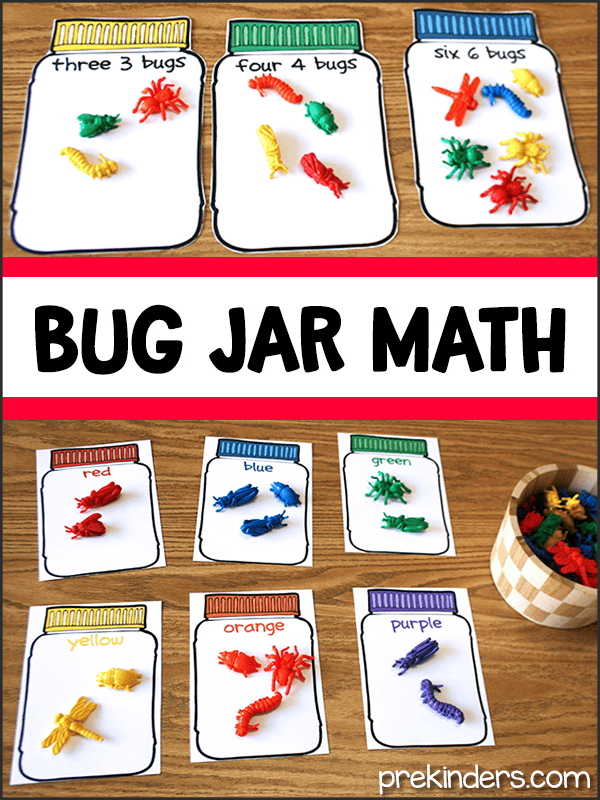 This post contains affiliate links.
To find a set of these bugs, they can be purchased through Amazon here: bug math manipulatives or many educational supply catalogs.
While I realize not everyone will have these particular bug manipulatives, I figured it was better to share them than not. There are also several ways to use them even if you don't have the bug manipulatives. Read more for alternative ideas.
These bug mats can be used to sort by color, sort by bug type, or counting. There are three sets of free printable mats.
Sort Bugs by Color
These mats have jars for each color. Children use the math manipulative bugs to sort by color onto the jar mats.
Sort by Type of Bug
These mats have jars for each type of bug. Kids can sort the bug manipulatives by type of bug.
Counting Bugs
These mats have jars with numbers, and children can use the bug counters to practice counting.
Alternative Ways to Use the Mats
Even if you do not have these bugs math counters, you can still use the set of counting mats. Just check dollar stores and crafts stores for little plastic toy bugs or craft foam bug shapes.
With the counting mats, you could also print and copy these in black and white. Have children either count out the correct amount of bug stickers to stick on the jars or draw the correct amount of bugs. It would be a neat idea to staple them together to make a counting book. If you have a unique way to use these mats, add your own ideas in the comments area below.
I know people will ask, so if you are interested in getting a set of these bug manipulatives, they are made by Learning Resources and there is a set for sale at Amazon.com and in several educational catalogs.
SaveSave