I know many teachers are already back in their classrooms getting things prepared for their students. Birthday things are something that I always put off to the last minute because of all the other things I have to get ready (cubbies, folders, centers, and all). Then I always have a child in my class who has a birthday during the first week of school and I'm not prepared! So here are some easy, quick birthday printables for teachers: a birthday crown, certificate, wall chart, and months of the year signs. This year, I'll have these ready ahead of time and I'll be prepared. 🙂
Birthday Crown
Print, cut, and assemble this birthday crown for your students to wear on their special day! Its easy to assemble. Print it onto brightly colored card stock paper, and cut it out. You can print these on colorful card stock paper or even regular construction paper. If you want to give children the opportunity to color it, print it on white card stock.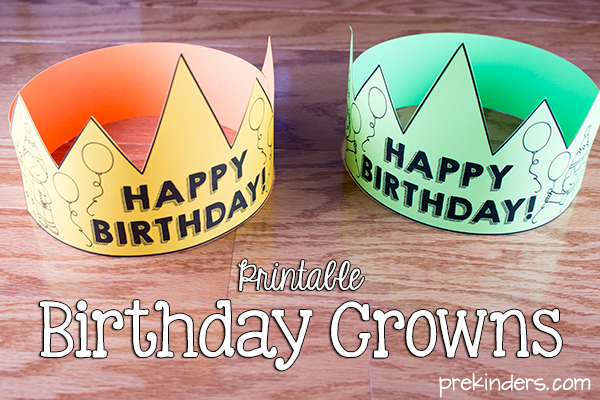 Use the star strip as a band to staple to the crown, or you can staple the front of the crown to a sentence strip.
Birthday Certificates
Print this birthday certificate to send home with your students. This one comes in a blackline version so you can copy it onto bright colored card stock paper. It also comes in a color version.
Blackline Birthday Certificate
Birthday Wall Chart
Make this wall chart to display and keep track of students' birthdays. You could use poster board, but I used this paper from a craft store. I don't know what this paper in called, but it's found in craft stores like Hobby Lobby and Michaels and it's located near the paints and canvases. I chose this because it comes in the prettiest colors. Mine says it is made in France and is acid-free. It costs less than $3.
Print out the Birthday banner, cut, and either tie onto twine or staple the pieces on a bulletin board. Print out the month squares and glue to the poster board. You can write the children's names in each month's squares or take a photo of the children who have a birthday each month and attach the photos to the squares.
I clipped my pennant banner pieces to this cute pom pom trim I found on clearance at Michaels and the blue clothespins are from there as well.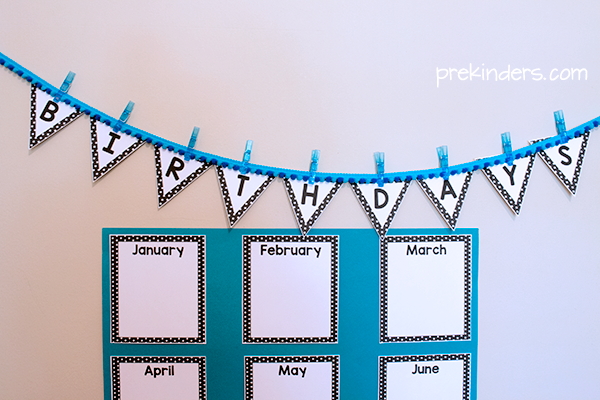 Here's another way to display your birthday chart. Instead of putting the month cards on poster board, clip them to some trim or twine.
Months of the Year Signs
You can also use these labels to create a birthday month chart. You could also use them in your calendar area, or to label storage boxes for each month, or to label file folders.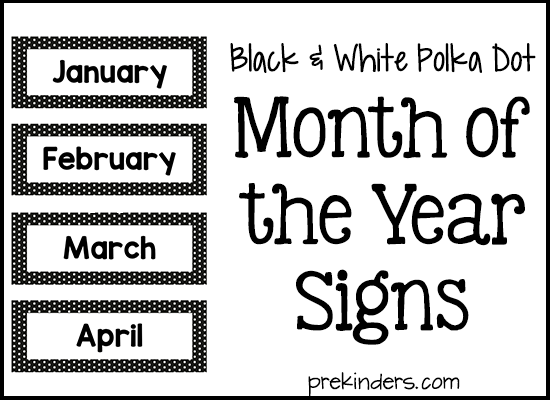 Birthday Rhyme Poster
This poster can be printed out for a student on their birthday. Fill in the blank with their age and name, draw the correct number of candles, and then recite with the class. The birthday child can take the poster home at the end of the day. Print this in color or black and white. (This rhyme is copyrighted: you may use it with students, but may not republish it in books, online, in any form.)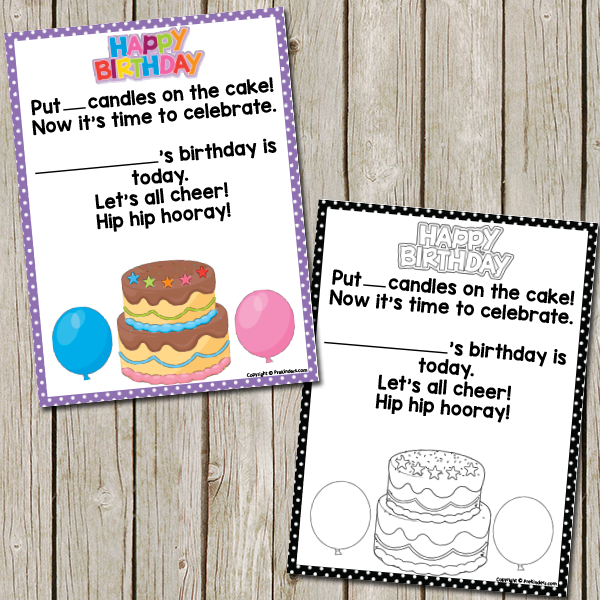 Birthday Box
I let my students choose their own gift from my Birthday Box. I don't do a treasure box for behavior, so this is the only treasure box we have, and the kids love it! They can't wait for their birthday to come so they can pick out what they want. I buy things from dollar stores, but the most popular items have been Match Box cars and flavored Chapstick. I got a big package of Chapstick (not that brand, that's just what I call it — lip balm just sounds weird) at Walmart after Christmas that was marked way down, and they were individually packaged.
Graphics in these printables by Whimsy Clips and Zip-a-Dee-Doo-Dah.
You'll also love this Birthday printable:
SaveSaveSaveSave